What is Automation of Business?
Business automation, also known as enterprise automation or business process automation, is an application of technology that automates repetitive tasks or processes. Business automation can bring many benefits. It can help your business run more efficiently, grow and get more done.
It uses software to automate repetitive advertising and marketing tasks. It's additionally implementing era and equipment to market more correctly throughout several channels.
Promoting your business and automating your essential business tasks while you rest is a choice that many commercial enterprises want.
Automate a business to grow your bottom line. Our automation platform allows you to automate entire processes or individual tasks, so you can save time and money while growing your business.
How does It work? Role of CRM in automating business workflows?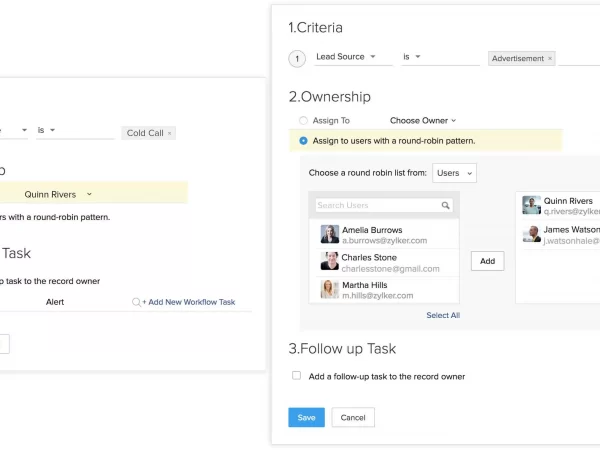 Consider you are a small-scale company of cleaning service or a law firm. You have a functional website where you get most of your visitors for queries.
Now you need a dedicated staff to handle your visitors' queries. Once the inquiry is solved, add them to your database as raw leads. From there, you will need someone to contact those bare leads for follow-up and convert them into leads.
On the other hand, if a new or raw lead is entered into your database, you need the concerned department to get aware of it. So in our example, if the enquiry was about house cleaning, then the housekeeping department must know about this raw lead. Or if it is about a criminal case, then lawyers from criminal cases must get alerts.
Once this lead is handled by some sales staff and converted into a customer, you ideally want to see its complete history and generate alerts and notifications to all teams.
This process of getting a raw lead, converting it into customers, informing all relevant staff with notifications and alerts and identifying that customer's entire history or log is business automation.
TheDesignerz can help you automate your workflows and business process in an easily manageable way that reduces your business burden. We are experts in managing strategic solutions to automate your business with a wide range of CRM software such as Zoho, Hubspot, Monday.com, Zapier and many more.
We, with our business automation model, help you automate your business process by:
Live Chat: Integrating a live chat widget in your website to grab the customer instantly, answering their queries. If the customer is interested, add them to your database as Raw Leads. We also integrate an analytics channel that helps us understand your website's status, its weak and strong areas, and the most visited pages.
Assigning Leads: When entered into the system, a raw lead generates alerts and notifications to the concerned department and is assigned to one of the relevant staff.
Leads Followup or Action Taken: The staff follows up with the lead and, with a customized marketing solution, tries to convert it into a customer. The notes and remarks are always written for future reference and identification of tasks performed. Such as, a lead might be tagged as "Interested in Future", "Call back next week" or "Needs demo", etc. The action taken by your staff on that customer to convert is recorded and can be seen by all admin, managers and business owners.
Lead Conversion: Let's say a lead is converted into a customer; an invoice can be generated automatically and confirmed with accounts. The whole process will be based on workflow automation and will have a clear picture of each step, from capturing a lead to turning it into an actual customer.
TheDesignerz provides you a customized, affordable, fully automated business model based on your business requirements that can ease your time-consuming work processes and bring a quality and effectiveness by complete monitoring. Consult us now to discuss your business model and how can we help you or view our project case studies.