Professional Web Development Services in Sharjah – Dubai
Web Development is an essential part of a website cycle. However, even if the designs are creative and eye-catching, if the development is not up to standards it will ruin the website. Are you looking for top-notch web development services in UAE? Look no further than TheDesignerz! Our team of expert web developers has years of experience in delivering custom web development solutions to clients in UAE and beyond. From simple websites to complex web applications, we can help you achieve your business goals with our professional and affordable web development services.
At TheDesignerz, we focus on developing a website with the latest UI trends, adequately documented clean code and consistent structure.
As the best web development company in UAE, we are committed to delivering high-quality web development solutions that meet the unique needs of our clients. Our team of web developers and app developers has a deep understanding of the latest web technologies and trends, allowing us to create modern and responsive websites that look great on all devices.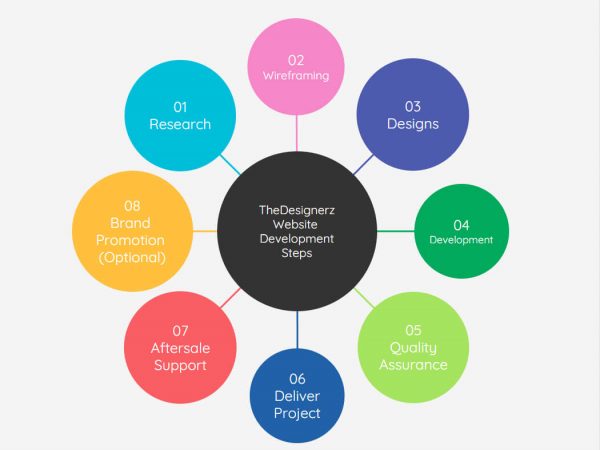 We take particular time in understanding which platform should be used to derive the primary goals from the website. Our website development services are extremely professional and strategical. Before acquiring a project we break down our web engineering process into six steps. From planning to execution and research to deliverable we make sure each stage progress smoothly. A leading web development agency like TheDesignerz always comes up with the solution that help clients in getting a personalized website. We provide professional website developers in Dubai, Sharjah and all over UAE for professional website design service.
Custom Web Development Services in UAE
We understand that every business has unique requirements when it comes to web development, and that's why we offer custom web development services in UAE. Our team will work closely with you to understand your business objectives and create a customized solution that meets your needs. We are expert in customizing content management system and customized web.
E-commerce Web Development
In addition to custom web development services, we also offer e-commerce web development services in UAE. Our team has extensive experience in building e-commerce websites that are optimized for online sales. We can help you build a user-friendly and secure e-commerce website that will help you grow your online business. We build web applications with high user experience, usability and modern user interface. Our website developers produce website that are high ranking in search engines and comes with basic digital marketing and connectivity.
Responsive Web Design
At TheDesignerz, we understand the importance of responsive web design in UAE. With more and more people accessing the internet on mobile devices, it's essential that your website is optimized for all screen sizes. That's why we offer responsive web design services in UAE to ensure that your website looks great on all devices.
If you're looking for professional web development services in Abu Dhabi or web design and development services in Dubai, TheDesignerz is the right choice for you. Our team has extensive experience in delivering high-quality web development solutions to clients across UAE.
We pride ourselves on being one of the top web development agencies in UAE, and we're committed to delivering the best possible service to our clients. Our team is always up-to-date with the latest web development technologies and trends, allowing us to create cutting-edge web solutions that are tailored to your needs.
WordPress Website, Content & Landing Page Development
WordPress is the most common platform in UAE, covering maximum industries and businesses. Whether you are a cleaning company, a restaurant, a book shop, an online portal, an eCommerce site, a video or portfolio-based site, a b2b website or a b2c site, WordPress has tons of designs and functional assets to fulfill your business requirements.
TheDesignerz is an expert and highly skilled in WordPress website development Dubai regarding Premium Theme Customizations and Custom Designs that can be translated into WordPress Theme. Our state-of-the-art developers develop lightweight, fully functional premium WordPress websites, WordPress landing pages and WordPress web apps.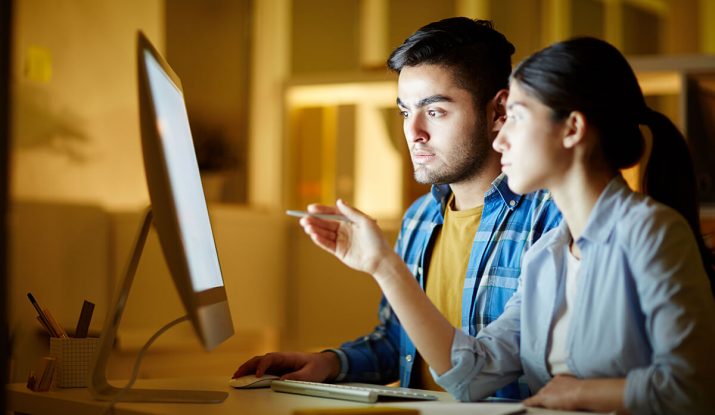 Website Development Services for Small & Medium Business
Unlike large enterprises and organizations, small and medium-sized businesses usually do not hire a full-time web developer that can do website updates and maintenance regularly. However, they still need someone dedicated and reliable to handle it.
Here comes our part, TheDesignerz being one of the best web development company in Dubai, offer you professional yet cheap and affordable website development service.
Affordable Web Development
At TheDesignerz, we believe that affordable web development services should not compromise on quality. That's why we offer competitive pricing without sacrificing the quality of our work. Our web development services are designed to help you achieve your business objectives without breaking the bank.
Tools / Technologies:
These days there are a thousand ways to develop a website from scratch to ready-made designs. If you talk about CMS (content management systems), you will find a list of open-source CMS that allows web page development. Similarly for LMS and for JavaScript Libraries.
You can use several technologies to develop a web page or a website. Our quality is that we are confident in all technologies and propose the best which exceeds client expectations. Some of them are listed.
CSS Frameworks such as Bootstrap / Foundation / Material / Skeleton etc.
CMS such as WordPress / Joomla / Drupal / Magento / Concrete etc.
Ecommerce such as Woocommerce / Opencart / Prestashop / Magento etc
JavaScript Frameworks mostly use for single page applications such as Angular / Vue.Js / React etc.
PHP Based platforms such as Codeigniter / Laravel / Symfony / Python
Online Web Page Builders such as Wix, Shopify, Elementor, Beaver, WP Bakery etc.
You can look our portfolio to see all type of our work. Our Portfolio or you can follow us on instagram for latest updates. Our Instagram